A castle like motel complex set amongst beautiful rose gardens in the heart of Christchurch, the Camelot Motor Lodge is a great place to stay . The Camelot Motor Lodge is only a 3 minute walk to the peaceful Hagley Park – the largest park in Australasia – and its amazing Botanical gardens, 10 minutes to the Casino and 15 minutes to the Restart Container Mall in the Town Centre, Museum and Punting on the River. Lots of restaurants and cafes are only minutes away too.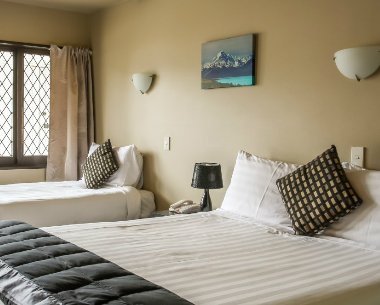 Large, sunny studio unit with separate en suite and full kitchenette, configured with queen and single, or queen and couch. All studios have FREE Internet access, DVD and TV. Sleep one to three people.
Looking for lots of space? Then these two-bedroom, two-story apartments are just the thing! Up to seven people can stay in some of these and they are configured with one or two bathrooms and either two queen-beds and two singles, or one queen-bed and four or five singles. All have kitchens and some have full stoves or hot plates & microwaves.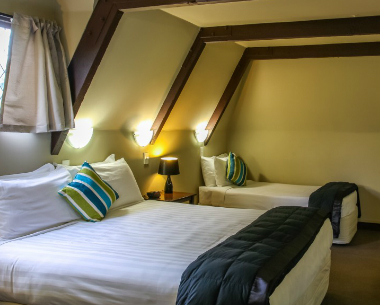 Smart and spacious one-bedroom apartment with large separate lounge and kitchenette and bathroom with bedrooms configured as king, king and single, king and two singles and king.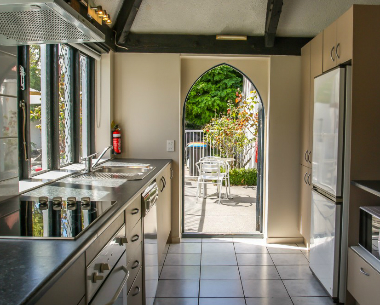 A spacious four-bedroom lodge with two bathrooms, large lounge and spacious full kitchen with a dishwasher etc. This house is located close to the spa pool, outdoor swimming pool and barbecue area and is ideal for a large group, sleeping up to 12 people. A minimum two-night stay is required here!